Until last year, I was like most business owners. I thought I was too busy to monitor my numbers as closely as I should have been. It was always on my mind but I was never in enough pain for it to make me change.
That all changed when I made the decision that I needed to level up my reporting with my owners. This inspiration came from me hiring an outside business coach that happen to be a fanatic numbers guy.
My initial goal was to provide my owners with a monthly email that gave them a series of updates as well as rental related KPIs.
Just like any other business, regular monitoring the fundamental metrics in your management business is crucial. As Property Managers, we have an overload of data that is in front of us on a daily, weekly, monthly and yearly level. Everyone seems to monitor vacancy rate so that is a good start. If you don't know your vacancy rate, shame on you!
What I want to focus on today is sales, specifically on the rental side. The heart and soul of a management company is its ability to rent apartments/homes. If you can't do that, you will not be in business for very long.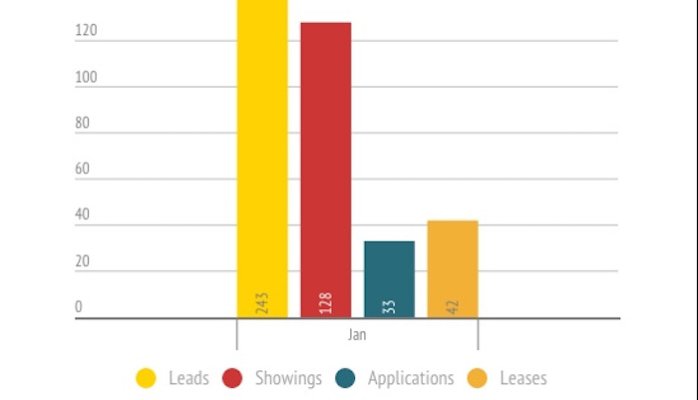 I've compiled a list of 4 KPIs that we monitor on a regular basis. These 4 KPIs represent the rental cycle for new tenants.
1. New Leads
Everything starts with a healthy pipeline of good qualified leads. Most advertising for rental properties is now done online. For the tech savvy, this is great news. Not so great for the old school that don't quit get it yet.
Weather you're old school or new school, you need a system to be able to track your incoming leads.
We track our leads in 2 ways:
Our online ad system generates monthly reports on the ad responses. I can see every email that was sent from a prospect about a unit.
My front desk admin has a spreadsheet that she fills in through the month to keep track of all incoming calls as well as walk ins.
At the end of each month, we combine all of the numbers to give us a final picture of the amount of leads that came in that month.
2. Showings
If your lead pipeline is doing its job, you should be getting lots of calls for showings. This is where you really get to shine and put that salesman hat on.
Tracking showings can be a challenge if you have a large team of leasing agents and live-in managers. To make things as easy as possible, you have to regularly communicate with your team to ensure that ALL showings are being recorded somewhere.
There is technology out there to help with this. Mostly apps from the real estate space but can be adapted to Property Managers.
We tend to use paper to track. Anyone that shows apartments for us has a stack of forms that they fill out for each of their showings. Every Monday morning, I compile and review all of these forms and update my tracking system.
3. Applications
If your leasing agents are doing a good job, you should always be working on a stack of applications. Again this process is mostly digital these days.
If you have a good management system, all your applications should be entered online. This way, we are able to simply pull a report on what was approved and or denied for a specific month.
4. New Leases
Applications lead you to the ultimate goal, signing a new lease. Once again, this process is mostly digital these days. Once the new lease is entered in your management system, you should be able to pull reports on a monthly basis for numbers. All of this leads to a monthly set of KPIs that you can provide to all your owners.
Level up your game and start monitoring your business metrics!