Like any other business, growing a property management business should be the owner's number one priority. The reality for most business owners is that growing the business is often put to the side to fight daily fires. This is especially true in Property Management.
Successfully growing a rent roll comes down to 2 fundamental principles:
POSITIONING & REPUTATION
If you can master these 2 functions, new management will be the least of your worries. You'll be too busy constantly on-boarding new clients and tenants.
Positioning yourself as an industry expert and authority is key to your success as a property manager. The industry is filled with half fast PM's with no business being in the industry. By standing out as an expert and known as someone with integrity, you will reap the benefits.
Reputation also plays a huge role in Property Management. The amount of people involved in this business is on the low side therefore if you mess up, the news spreads quickly. Everything you do must be above board. You never want owners, tenants or anyone else for that matter questioning your ethics or your honesty.
Be completely transparent and run a professional business!
Let's take a look at what revenue channels are available to Property Managers. Most only focus on new management as a source of revenue and this is a huge oversight!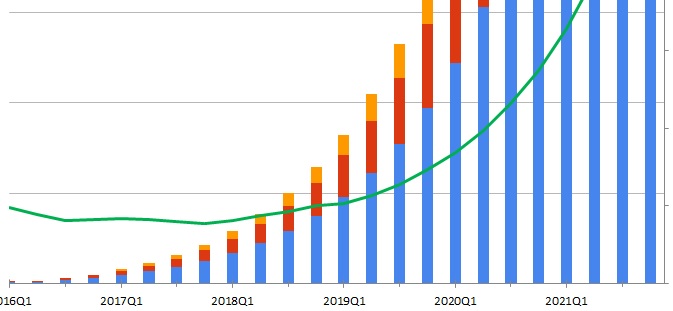 Here are my top 5 sources of income for my management firm:
1. New Management
This one is easy. Bring in new business! Your goal is to be on-boarding new clients every month.
What are the typical types of properties that Property Management companies manage?
Single Family Homes / Condos
The single family home part of the business can be very lucrative but also very volatile. Buying single family homes as investments is not as popular as the multi-unit market therefore there are not as many investors in this space and for good reason!
Most single family home rentals come to us because of circumstances.
The home owner could not sell and needs to rent
The home owner is relocating for a few years and wants to rent until they get back
Separation/Divorce
All of these circumstances lead to lots of new management opportunities however you need to be prepared with the volatility involved. If you're getting a lot of these in your portfolio, chances are that many are coming in and many are leaving as well.
The time period for these rentals are usually a year to 3 years. This is why some property managers shy away from single family.
The approach in getting new management in this space is much different than larger multi-unit buildings. You're dealing with home owners and not always real estate investors that know all the details of the rental business.
Your marketing material must be more educational in nature. Most home owners think renting is a complicated process, it's your job to simplify this for them in a message that they understand.
Residential Multi-unit
This should be the heart and soul of your business. In order to grow your portfolio of larger buildings, you MUST be seen in the community as an expert and someone investors can trust.
You want to be constantly in contact with the big realtors in town that deal with multi-units. Networking in this space is critical - you need to make yourself known to others.
Realtors can be your biggest source of referrals and therefore you need to feed those relationships. Make sure you reciprocate and give business out to these people as a thank you.
In most markets, you will find real estate investor clubs. You need to be part of these organizations in order to get your name out there and get to know who's who in your market.
One of the biggest mistakes I see people make is that they don't know all of the buildings in their city. I make it a regular practice to drive around and mark down addresses of buildings. Once back at the office, I find out who owns the property and how its managed.
2. Maintenance
This is typically the second largest source of income in a management company should come from maintenance done at your properties. As you grow as a property manager, the size of your maintenance crew will go up and therefore so should your revenues.
A lot of startup property managers sub out all their maintenance and some do it all on their own. Both have positives and negatives. By sub'ing out the work, you are leaving a lot of money on table. If you do all the work yourself, you're probably not spending enough time on other important tasks in running your business.
Having a maintenance crew has a lot of overhead: liability insurance, workers comp, vehicle expenses, gas expenses and the list goes on.
You need to price your maintenance work fairly so that your owners are still getting a good deal; however, you also need to make sure you are covering all of your overhead plus leaving a bit at the end.
3. Late Fees
Unfortunately not all markets are allowed to charge late fees; however if you can, I strongly recommend it. Late fees are put in place to ensure that tenants pay their rents on time. This is always the goal.
If they don't pay on time, you typically have to call them or send out letters for late rents or possible start the eviction process. All of this is time spent by you or your staff and therefore costing you money. Late fees are a way to get compensated for this time spent. Your owners should not be paying for things like this.
4. Rental Commissions
Rental commissions are often one of the biggest income sources of a management firm. Depending on the size of your portfolio, you should have a steady stream of new commissions coming into the firm. Rental commissions are typically charged once a new lease is signed with a new tenant.
Rental commissions can vary from a percentage of the rent or, most often, is a multiple of the rent. We typically see 1 months rent payed out as commissions. If you have 10-20 + new leases per month, this is a great source of revenue.
5. Start Up Fees
When bring on new management, startup fees are typically charged out. There is a lot of work involved in on-boarding a new owner: visiting the property, meeting the tenants, sending out welcome letters, taking pictures and getting them setup in your internal management system.
I don't recommend that you price this too high, flat fees are pretty popular. You want to price this so that its palatable for the owner and covers your costs to get them on board.
As a final note, be flexible in your pricing, for everything that I mentioned above. If you get a new prospect thats going to bring you hundreds of units, you need to be flexible in your negotiations. You don't want them to feel like your going to nickel and dime them at every turn.